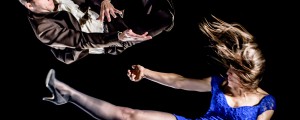 As autumn creeps in and light seeps away, we are looking forward to a new season – it´s going to be a long news post, but a lot of great stuff is happening!
Here you can read about:
– "Sisyphus Ascending" @ Les Boreales
– "Empty Steps" touring
– "UNDERWOOD" returns for another run
– Welcome new manager of GLiMT and where to meet GLiMT during the autumn
– Snapshots of upcoming projects; "Strainer" begins rehearsals, "What is Left" will be prepared for 2017, Educational project in Tårnby (DK) starts, GLiMT at CARD2 conference and "Are You Us?" at OrienteOccidente festival in Italy.
Sisyphus Ascending @ Les Boreales, France
Sisyphus Ascending, a modern interpretation of the myth of Sisyphus, will play at the french festival of northern art, Les Boreales, on the 17th November.
It will happen at La Renaissance theatre in Caen, Normandy.
We are looking immensely forward to presenting this performance to the French audience, and if you would like to come and join them, please contact us.
See more about Sisyphus Ascending here
See more about Les Boreales here
Empty Steps touring
Empty Steps, which shows the passing of one day for a brother and sister living on the street, will play at various festivals and schools throughout Denmark.
It is becoming increasingly clear for us, how well the performance works with schools and youths, especially followed by a talk with the artists about the performance and the situation of street children throughout the world.
See more about the performance here
If you would like to come and see the performance, please contact us for tickets.
Empty Steps plays the following days:
2nd & 3rd October @ Aarhus Children theatre festival, Bora Bora theatre (DK)
5th October @ Kulturkraft Halsnæs, Kulturhuset, Halsnæs (DK)
5th November @ Helsingør Lilleskole (DK)
27th November @ Teater og Musikhuset Vostrup, Tarm (DK)
UNDERWOOD plays again
In the summer of 2015, GLiMT created the sitespecific performance, UNDERWOOD, in the natural park of Vestamager Naturpark. It became a great succes, with more than 30 intimate performances, and around 1300 audiences, young and old.
In May & June 2016, we will develop the performance further, and make the performance return for another 3 week run.
The audience follows a girl in her quest to find her father, and journeys through the Underwood, which increasingly begins to resemble parts of the girls subconsciousness.
It is both nature and theater fused together, which enhances both experiences. It is suited for both young people and adults.
We are also in the plans to adapt the performance to forests, close by two theatres in other parts of Denmark. It will be an experiment opening up the possibilities to bring the performance out beyond Denmark on tour.
See videotrailer from the performance here
Welcome Jonas Schou Hansen, new manager for GLiMT
Jonas Schou Hansen will join the GLiMT team as manager, and will be in charge of several of our productions and projects. He will represent GLiMT at several events in the autumn, so you might get the chance to meet him. Otherwise you can always reach him at: jonas@glimt.info
Jonas will be present at Circa festival in Auch, France, at the IETM plenary meeting in Budapest, Hungary, at Les Boreales festival in Caen, France and at the Danish Theater seminar in Frederikshavn, Denmark.
Snapshots of upcoming projects…
GLiMT´s upcoming performance "Strainer" will premiere in January 2017 in co-production with the Danish regional theater Limfjordsteatret. In the spring of 2016 research rehearsals will begin with a great team of talented artists. "Strainer" is directed by Lars Lindegaard Gregersen and revolves around the conflict between individual and societys complex social rules.
During 2016/17, GLiMT will also produce Camila Sarrazin´s next performance "What Is Left", a performance about the sorrow for the ones left behind a loved ones death. It is produced with several local partners, both theatres and churches and will mainly perform inside church buildings.
During 10 weeks in the beginning of 2016, GLiMT will be in charge of a educational project in our home town, Tårnby, close to Copenhagen. 8 schools, 3 youth clubs, 1 evening school and 1 music school are involved, and 200 kids in the age of 13 – 14 years will practice aerial acrobatics, modern dance, double acrobatics, livemusic composition and physical theater, and end up creating a performance together at Kulturzonen, Tårnby in Denmark.
Lars Lindegaard Gregersen will attend the contemporary circus conference "CARD2" in Stockholm, Sweden in December. He will give a presentation about "The physical metaphors of contemporary circus" with an open discussion following.
And finally, it has just been confirmed that GLiMT will perform "Are You Us?" at the OrienteOccidente festival the 17th february 2016, at the beautiful Teatro Sanbapolis in Trento, Italy.
See more about OrienteOccidente here
In hope to see you soon, and please contact us for further information on our projects
GLiMT,
Camila Sarrazin, Lars Lindegaard Gregersen & Jonas Schou Hansen