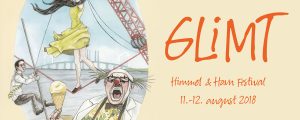 This summer, we are happy to be able to invite you to the first Heaven and Harbour Festival  
– Tårnby's very own festival with contemporary circus, acrobatics, clowning and live music for the whole family at Kastrup Marina.
For the past several years, we've toured to many countries and festivals all around the globe, and this summer we are excited to bring our many experiences back home to Tårnby.
We have just released teh full program for the festival, and you can see it here: www.glimt.info/festival
The entire program is free and no booking is needed.
So grab your family by the hand and bring them down to Kastrup Marina to enjoy a weekend full of exciting shows.
You can follow the festival on Facebook here:
www.facebook.com/himmeloghavnfestival
If you'd like to volunteer your help at the festival and support this local initiative, please contact our producer at jonas@glimt.info to hear more.