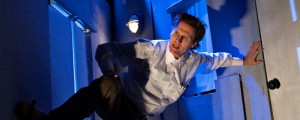 Even though it was our birthday, we haven't been idle. During the course of 2017, we have premiered "Strainer", a co-production with Limfjordsteatret and Vendsyssel Teater.
The show was performed 21 times on tour at 12 different venues. Performer Bo Madvig was awarded the prestigious Reumert Award as Dancer of the Year 2017 for his role in "Strainer".
"What is left" premiered and toured. All told, the show was performed 48 times during the course of the year in church halls, theatres and cultural venues throughout Denmark.
We created "KRAN", a special performance created specifically for Kastrup Harbour, which was performed over the course of 2 days for more than 750 people.
We kicked off "Viden i Kroppen" (Knowledge in the Body), our new teaching project where we partner up classroom teachers and circus artists to create new, special teaching courses.