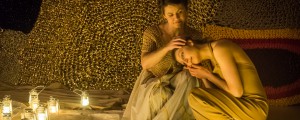 "What is left" will now be touring throughout Denmark. The performance premiered in April 2017 in the old Sct. Elisabeth Hospital on Amager, Copenhagen, and we've now introduced a new opera singer, Hanne Marie le Fevre, to the show, and will be sending the performance on a 3 week tour of Denmark in September.
The tour already started, on the 12th August, when we visited Teater Nordkraft during Aalborg Operafestival. The rest of the tour will be as follows:
11th September, Kulturzonen in Tårnby, 5pm and 7pm
14th September, Ranum Kirke (arrangered by Vesthimmerland Teaterforening), 6pm and 8pm
16th September, Den Fynske Opera / Teater Momentum, 3pm, 5pm and 7:30pm
19th September, Korsvejskirken in Tårnby, 6pm and 8pm
20th September, Brønshøj Kirke, 6pm and 8pm
28th September, Skagen Kirke (arrangered by Kulturhus Kappelborg), 3pm, 5pm and 7:30pm
30th September, Kolby Kirke on Samsø, Noon and 2pm
"What is left" is a different kind of live theatre experience, exploring what is left after someone dear has passed away; a performer and an opera singer take the audience on an intimate journey through what is left behind by someone – through the objects, the memories and the stories.
Click here to read more about the performance.