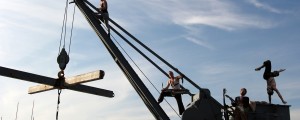 KRAN is a performance for the entire family, created especially for Kastrup Harbour by GLiMT.
On the 26th and 27th August, both days at 2pm, you can come experience contemporary circus, aerial acrobatics, physical theatre and live music, as acrobats, musicians and performers take over the harbour and its impressive, red mobile crane.
The performance is being created in a collaboration between GLiMT, Kastrup Harbour, Tårnby Main Library and the Tårnby Council.
The performance will take place on the South pier of Kastrup Lystbådehavn (Kastrup Marina), by Restaurant Kastrup Strandpark, and will be playing as follows:
Saturday 26th August, 2pm
Sunday 27th August, 2pm
It's not necessary to book a ticket – just come and experience the show!
The team behind the performance is:
Director: Camila Sarrazin
Performers: Kajsa Bohlin, Moa Asklöf Prescott, Karoline Aamås
Musician/composer: Henriette Groth
Assistant: Sara Simonsen
Thanks to ZeBU for borrowed benches!
You can also follow the show on facebook – click here to go to the official event for the show
And you can follow GLiMT on facebook here: www.facebook.com/glimt.info