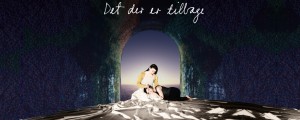 WHAT IS LEFT will premiere on the 20th April in the old Sct. Elisabeth Hospitalon Amager – today the building is occupied by Psychiatric Center Amager, and the adress is Hans Bogbinders Allé 3, 2300 Copenhagen S.
"What is left" is a different kind of live theatre experience, exploring what is left after someone dear has passed away; a performer and an opera singer take the audience on an intimate journey through what is left behind by someone – through the objects, the memories and the stories.
Walking through a tunnel woven from the detritus of life, we experience firsthand the love of that someone, the longing, and the loss.
The premiere will take place on the 20th April 2017, at 6pm.
The performance plays from the 20th April – 11th May, Tuesday-Saturday at 6pm and 8pm daily.
Tickets can be booked via www.teaterbilletter.dk – please note that there is extremely limited space available for the performance, so make sure to book a ticket before there are no more tickets left.
Please note that there are no regular audience seats for the performance, as the audience will talk through parts of the performance, and have occasional opportunities to take a seat.
For those who are unable to see the performance when it plays on Amager, it will also tour in September 2017 – more news on that can be found in the Spring on this site: https://glimt.info/what-is-left/