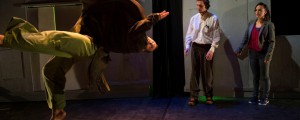 Our new performance STRAINER premieres in just a few days, before it goes on a tour across Denmark.  STRAINER is a hardcore physical and wordless performance, based on the social rules that make it so complex to be human and have to navigate in the society of the 21st century.
The premiere takes place on the 11th January 2017, at 8pm at Morsø Teater, Limfjordsvej 95, 7900 Nykøbing Mors, Denmark.
Then we'll go back to the rehearsal room to fine tune the performance, before the re-premiere on the 19th January at 7:30pm at Vendsyssel Teater – where the performance will open the theatre's neww black box stage. That's at Banegårdspladsen 4, 9800 Hjørring, Denmark.
STRAINER is a co-produktion between GLiMT, Limfjordsteatret and Vendsyssel Teater.
Tickets for the premiere are available through www.limfjordsteatret.dk
Tickets for the re-premiere are available through www.vendsyssel-teater.dk
Tickets for the tour can be booked through each venue's own website:
Danish tour in 2017:
10/01: Pre-premiere at Morsø Teater (Limfjordsteatret)
11/01: PREMIERE at Morsø Teater (Limfjordsteatret)
12/01: Morsø Teater (Limfjordsteatret – closed performance)
19/01: RE-PREMIERE at Vendsyssel Teater
20/01:Vendsyssel Teater
21/01: Vendsyssel Teater
25/01: Sønderborg Teater
26/01: Vostrup Teater- og Musikhus (arranged by Ringkøbing Fjord Teaterforening)
13/02: Roskilde Teater
14/02: Roskilde Teater
16/02: Teater Nordkraft
17/02: Teater Nordkraft
18/02: Odinteatret
21/02: Helsingør Teater (at Kulturværftet)
23/02: Viften (arranged by Trommen)
27/02: Teater Momentum
28/02: Teater Momentum
01/03: Vejleegnens Teaterforening
02/03: Teamteatret
Photo: Lars Horn / Baghuset